Volunteers

If you've got time and talent,
we've got great ways to use it!
Want to see big smiles greeting you whenever you walk through the door? Apply to become a volunteer at Challenger Learning Center of Maine, and you'll see plenty of them! Help is always needed; no experience necessary.
Whether you enjoy doing office work, organizing materials, being creative, applying your craftsmanship, helping with events and programs, or just lending a hand where ever one is needed, the staff at Challenger would love to have your help!
Please contact Susan Jonason, Executive Director, to arrange for an interview so that we can apply your skills where they are needed most: sjonason (at) astronaut.org / (207) 990-2900 ext. 4
---
High School Camp Volunteers Needed!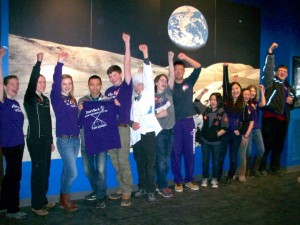 We are looking for High School volunteers with a passion for STEM to volunteer at our STEM vacation camps.  Use the link below to get started for our 2017 camps!