Donors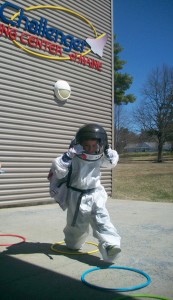 Thank you for making it possible for more students to participate in the Challenger program!
A gift to Challenger's Annual Fund will help provide Maine students with more opportunities to solve real-world problems, to share the thrill of discovery, and to cultivate the skills that are needed for future success.
Challenger's innovative education program is unique in the state of Maine. Nowhere else can students have the chance to become Astronauts and Mission Controllers and fly simulated NASA space missions, bringing their classroom studies to life!
Your gift ensures that Challenger will continue to offer more teacher training workshops, space science missions, vacation and summer camp programs, and family science nights. We wouldn't be here without your support!
Every Dollar Makes A Difference
A gift of $1,000 is enough to purchase and install a new computer, replacing aging equipment.
$650 sends an entire classroom on a mission.
$300 can help a student spend a week at summer camp.
$50 covers the cost for a day of vacation camp.
$25 buys supplies for a Family Science Night.
All gifts will be gratefully received.
Please make checks payable to: Challenger Learning Center of Maine
Send to: 30 Venture Way, Bangor, ME 04401
For GIFTS OF APPRECIATED STOCK, please call Susan Jonason, Executive Director (207) 990-2900 ext. 4 / sjonason (at) astronaut.org. Means Wealth Management as been authorized to handle such transactions.
All charitable contributions are tax deductible to the full extent of the law.
THANK YOU!