Mission Overview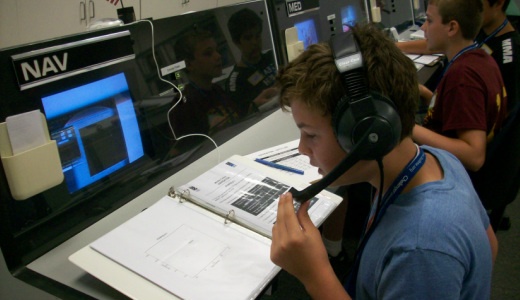 Simulated Space Missions: Overview
A Challenger Learning Center mission is more than a field trip or a computer game, it's an off-site laboratory. Our mission simulations are learning environments embedded with activities and lessons aligned with national Next Generation Science Standards (NGSS) and Common Core State Standards (CCSS). While students become astronauts and engineers at Challenger Learning Centers they are solving real-world problems as they share the thrill of discovery on missions through the Solar System.
Students will engage in the enterprise of science while applying skills in STEM. The jobs they perform will complement their in-class work and provide experiences that are not possible in the classroom. They will be required to solve problems,communicate effectively, make good decisions and work as a team to achieve success.
When students arrive at the Challenger Learning Center, a short briefing is held in which they will review their mission objectives. The group is then divided in two with one half taking their work stations in Mission Control and the other half "launching" to the Space Lab to work as astronauts. Each member is assigned to one of the teams that comprise the crew, such as: Medical, Life Support, Robotic, HazMat, Aeronautical Engineering, Navigation, and Communication. Halfway through the mission, the students exchange places so everyone has an opportunity to experience both Mission Control and the Space Lab.
---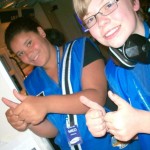 Standards and Skills addressed by Challenger Missions
---
"Excellent experience. Very lucky to be part of this program. Instruction and facilitation were awesome!"
Kevin Malenfant, teacher – Presque Isle Middle School
"Fantastic! I do not have any suggestions because the experience is perfect for 6th graders."
Mike Healy, teacher – Saint Brigid School, Portland
"We loved this experience! Every student was utilized and engaged! The content of the program was educational and fascinating!"
Suzanne Caron, teacher – Maranacook Middle School, Readfield
---
Types of Missions

Rendezvous with a Comet
Grades 6-10
Crew Size: 16-32
Duration: 2.5 hours
A team of scientists and engineers are on a daring mission that requires them to work together while facing obstacles and emergencies on their pathway to success. With a focus on the enterprise of science, teams will collect and analyze data to ensure the safety of the crew, simultaneously conducting important research for the benefit of humankind.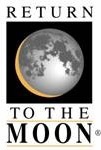 Return to the Moon
Grades 6-10
Crew Size: 16-32
Duration: 2.5 hours
For the first time since 1972, a crew of astronauts is returning to the Moon. Their mission is to determine the location of a future base on the Moon, as well as test the feasibility of off-Earth settlements. Navigating their way into lunar orbit, students must construct and launch a probe, and analyze a variety of data gathered from the lunar surface to select a site for establishing the permanent Moon base.

Becoming A Scientist
Grades 5-8
Crew Size: 16-28
Duration: 2-2.5 hours
A team of scientists and engineers has been called in to conduct research aboard the space lab and deploy a new satellite.  Students collect data, avert disasters, and ensure the safety of the crew, simultaneously conducting important research for the benefit of humankind.

Exploration Lab
Grades 1-5
Crew Size: 12-26
Duration: 2 hours
An introduction to lab science and process skills. During this program students will have a chance to try out several stations in the Mission Control and Space Lab simulators. Skills may include reading coordinates, using a balance, rock identification, following directions, effective communication, and data collection.
---
Ready to take FLIGHT?
Here's How to Participate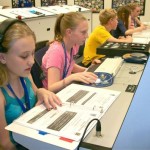 The first step is to fill out our "let's get started" online form. This form will start the communication process with a member of Challenger's staff regarding your mission selection and mission date(s). Next, your training at a mission teacher workshop will be scheduled. Finally, we will send you billing information regarding payment arrangements and scholarship opportunities (if needed). Details for each of these items follows:
Step One   Initial Inquiry:
Click on and fill out the "Let's Get Started" online form below.
Step Two      Training:
New Mission Teachers participate in a one-day in-service training program during which they receive preparatory materials for classroom use before their scheduled visit to the Challenger Learning Center. These materials are specially designed to prepare students for their mission and include skills-building activities in the areas of teamwork and communication. In addition, the teacher is given materials to help the students understand the thematic topic of their simulated mission. [Training is not required for Exploration Lab Mission]
Step Three    Cost:
Once your mission(s) date is picked, we will send you billing information regarding your payment arrangements. Below is the basic information regarding mission cost and scholarship opportunities.
$650: Rendezvous with a Comet, Return to the Moon, Becoming a Scientist
$400: Exploration Lab
**Special Pricing**
Book your mission before Oct.31 and pay $625
Fly the mission between September and mid-February and save even more! Pay $600
Cancellation Policy:
A full refund, less a $50 cancellation fee, will be provided for cancellations made at least 30 days prior to the mission date.
Challenger Registration/Cancellation Policies: click here
Scholarship:
Don't let a lack of funding prevent your students from participating in a Challenger mission simulation!
Apply for a scholarship request. Use the link below.
---

 Pre-Mission Materials
Below are helpful links to forms
and pdfs for educators attending missions.
Rendezvous / Moon / Becoming a Scientist
---
Post-Mission Materials
Once the mission is complete, we encourage you to extend the learning experience.
Click the link below to view all the post mission available.
Rendezvous / Moon / Becoming a Scientist